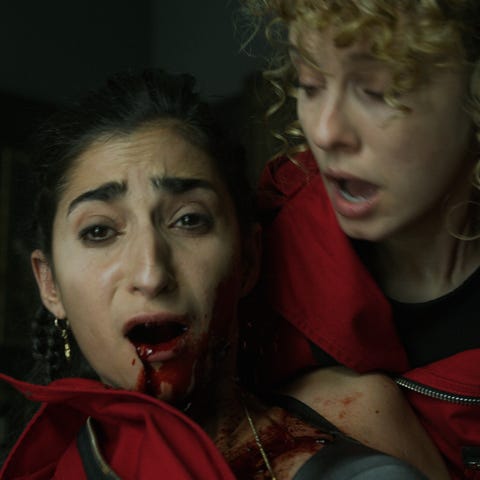 La Casa de Papel spoilers ahead.

Season 4 of La Casa de Papel aka Money Heist just premiered on April 3, 2020, and is streaming now.
In an interview with OprahMag.com, creator Alex Pina called it "the most shocking yet," while star Alba Flores warns viewers to "keep your tissues close."
---
It's official, y'all—the wait is over. Season 4 of Netflix's La Casa de Papel, a.k.a Money Heist, is officially out and streaming now.
If you're looking for what to look forward to before you start bingeing, just before its premiere, Netflix released a special episode-by-episode teaser that had our anticipation on high. We already knew that, according to the official trailer, season 4 will open up right where season 3 left off: Nairobi fighting for her life, Lisbon in police custody, and the Professor on the run. The trailer's most surprising revelation? The return of Berlin, who died back in season 2. 
But the preview gave a breakdown of what to expect from all eight episodes of season 4 it landed on the streaming platform at 3 PM ET in the United States. Well, Episode 1 is called "Game over," featuring El Profesor sobbing—likely because of the death of his beloved Raquel in the season 3 finale. Episode 2 shows us a flashback to "Berlin's wedding," and Episode 3 appears to be a standoff with Denver and someone mysterious with the title "Anatomy lesson."
Meanwhile, Episode 4 features a sneaky-seeming Profesor with the title "Pasadoble," the next episode, "5 Minutes Earlier" shows an explosion, and 6 shows the Profesor practicing boxing, 7 is called "Strike the Tent." (!!) And the final episode, 8? We see Alicia the detective looked very pleased before the episode title "Paris Plan." (Gasps in Spanish.)
That teaser is a riveting story in itself—so we can't imagine just how crazy the actual season 4 will get:
Of course, between the trailer and this preview, people were already theorizing about the fates of both fan favorites. Is Berlin back from the dead, magically—or is just coming back in flashback form? Will Nairobi survive after being shot in the chest by police? Will she ever reunite with her son, Axel, who had been used as bait to lure her out of the museum?
We did get a little bit of intel from one of the show's stars. In an exclusive interview with OprahMag.com in Madrid, Alba Flores—who plays Nairobi—revealed that season 4 is "tough."
"If you're going to watch it, keep your tissues close to you," she told us. "This season is tough—tougher than you think it will be at the beginning." And creator Álex Pina added: "This is the most shocking—the one that will cause the most commotion out of the four seasons we've done."
Ahead, here's what you need to know about season 4 of La Casa de Papel, also known as Money Heist. Happy bingeing, friends. And after you've watched, let us know your thoughts on the new season in the comments below.
---