PETALING JAYA: Malaysia will ask the United States to hand over the US$1 billion (RM4.18 billion) in assets it is recovering from fugitive financier Low Taek Jho, Prime Minister Dr Mahathir Mohamad said.
The US Justice Department (DoJ) on Wednesday struck a deal with Low, better known as Jho Low, to recoup funds allegedly looted from 1MDB in a record capture for a US anti-corruption probe.
"The assets were bought with Malaysian money. We have proof that this is Malaysia's money. We will now make a claim to the American government," Reuters quoted Mahathir as saying in Johor Bahru today.
Reports said the deal, if approved by a federal judge, would help resolve forfeiture cases tied to Low, who prosecutors say orchestrated the theft of more than US$4 billion from 1MDB that ended up paying for a private jet, a superyacht, mansions, diamonds and even Hollywood movie productions.
The agreement does not include an admission of guilt or wrongdoing, and it was unclear whether it affects the criminal charges against Low in the US.
Mahathir earlier announced that the government had agreed to continue with the Rapid Transit System (RTS) linking Singapore and Malaysia, at a new cost of RM3.16 billion.
The revised cost, he said, would result in savings of RM1.77 billion, or 36% of the original cost of RM4.93 billion.
In pics: 1MDB scandal timeline
Slide 1 of 30: Malaysia's former prime minister Najib Razak speaks to the media after being questioned at the Malaysian Anti-Corruption Commission (MACC) office in Putrajaya on May 24, 2018. – Najib arrived at the anti-graft agency on May 24 to be questioned for a second time this week over a multi-billion-dollar corruption scandal following his shock election loss.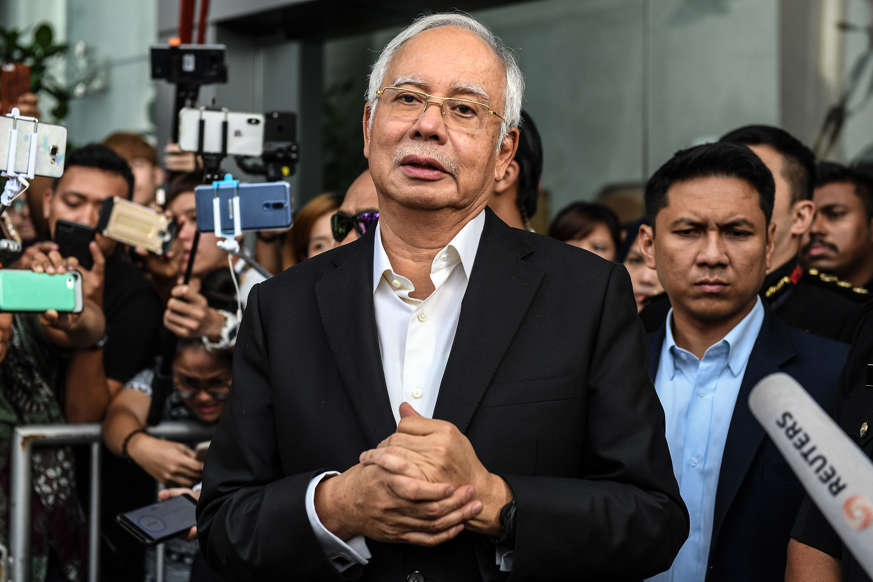 Former Malaysian Prime Minister Najib Razak was charged with and later arrested for wrongdoing in relation to 1Malaysia Development Berhad (1MDB), a government-owned sovereign wealth fund.