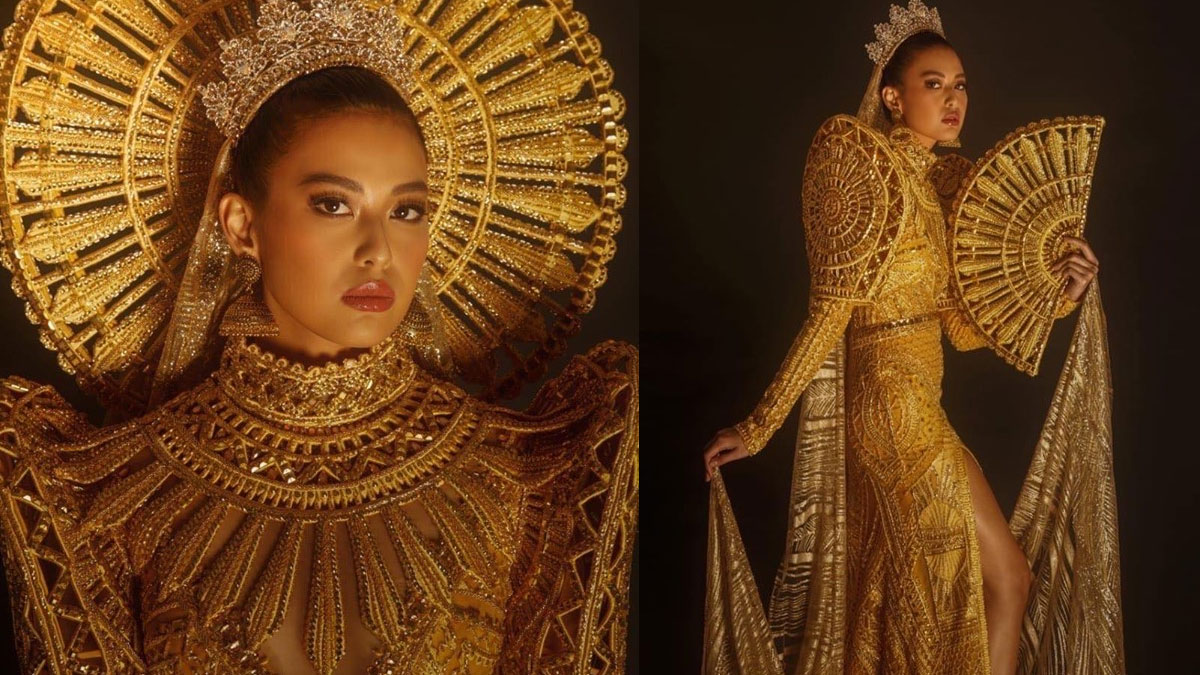 Michelle Dee's national costume for the Miss World 2019 pageant looks very regal.
The 23-year-old model will don a sun goddess-inspired national costume when she performs the traditional dance "Sayaw Sa Pamaypay" during the pageant's "Dances of the World" showcase.
This national costume, which is a masterpiece of renowed Filipino fashion designer Francis Libira, is worth PHP1.5 million.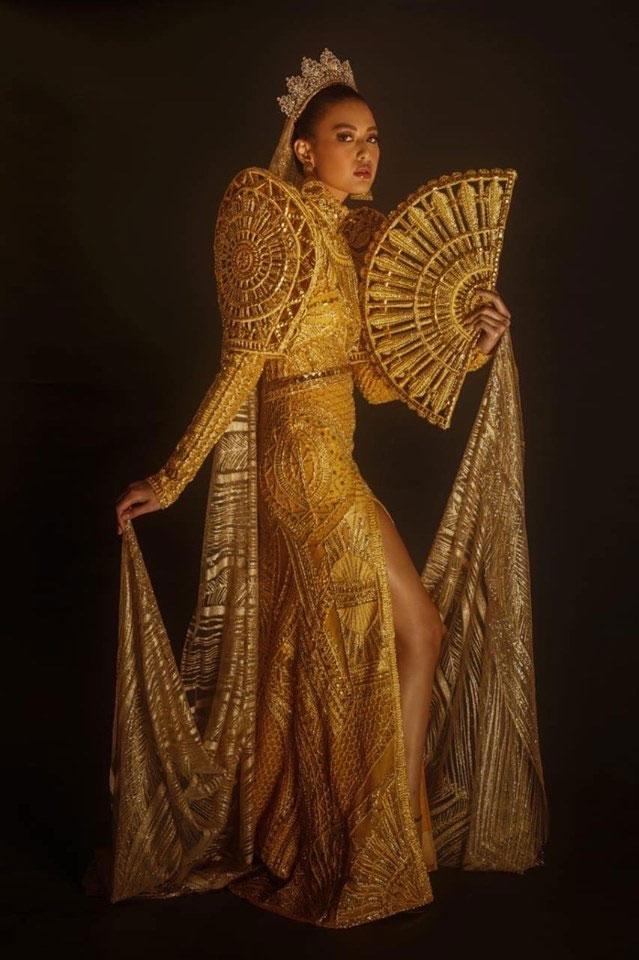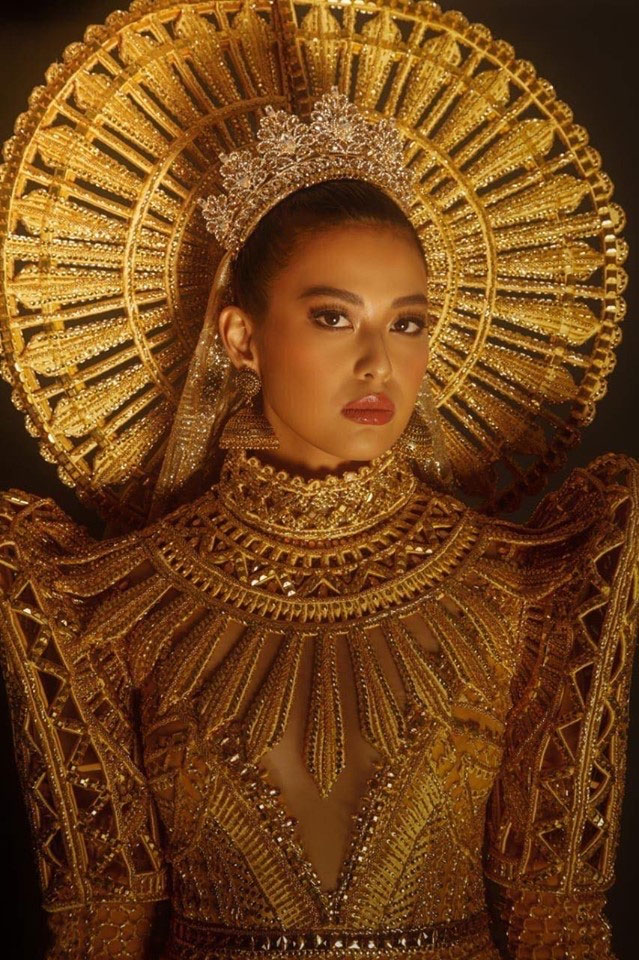 Before leaving for London, Michelle did a shoot with photographer Mike Gella at Empire Studios.
Dave Quiambao did her make-up, while July Vito was in charge of her hair. Her stylists were Francis Chee and Mikee Andrei.
PEP.ph (Philippine Entertainment Portal) received copies of the photos from GMA Artist Center.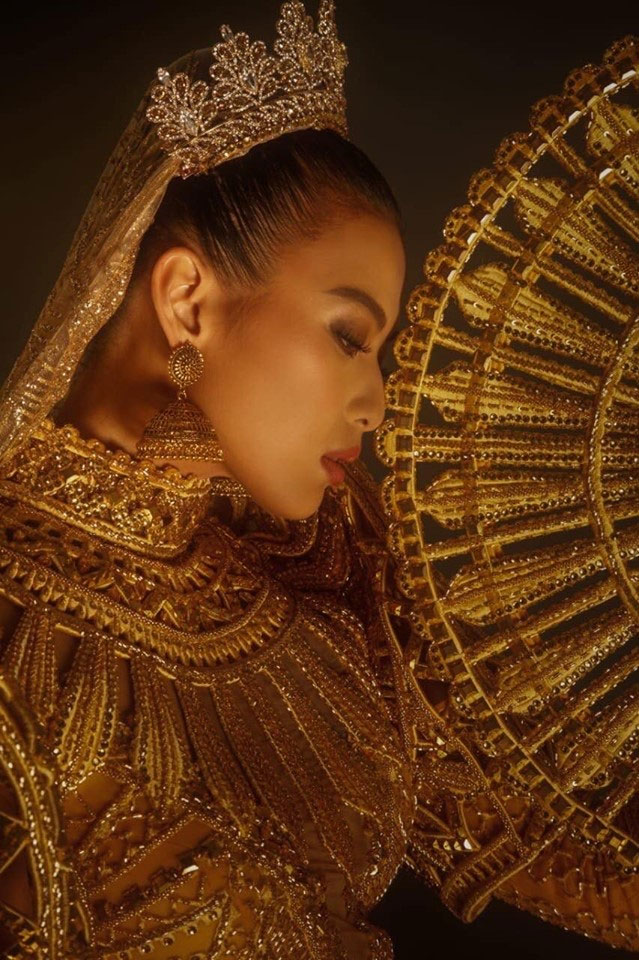 In an Instagram post on Monday, December 9, Michelle expressed how proud she is of her national costume.
Part of her caption read, "What a time to be Pinoy! ???????????? As you all know i've been wearing an all Filipino wardrobe since i got to London but it's time to showcase my national costume for @missworld to all of you! When i first saw this I couldn't believe my eyes. @francislibiran8 really outdid himself and i'm EXTREMELY PROUD to be a Libiran baby!! Btw belated Happy Birthday! The Philippines is proud to have you as one of our own."
THE DETAILS
Francis made the sun as the costume's focal point.
In his exclusive interview with PEP.ph (Philippine Entertainment Portal) on November 22, he said, "For her national costume, we tried to incorporate the Philippine sun which I also did for the SEA Games with the barong. So we tried to incorporate it in her national costume.
"Her national costume is, what we did was, we embroidered it in the sun pattern. So basically, more of Philippine embroidery iyong ginamit namin."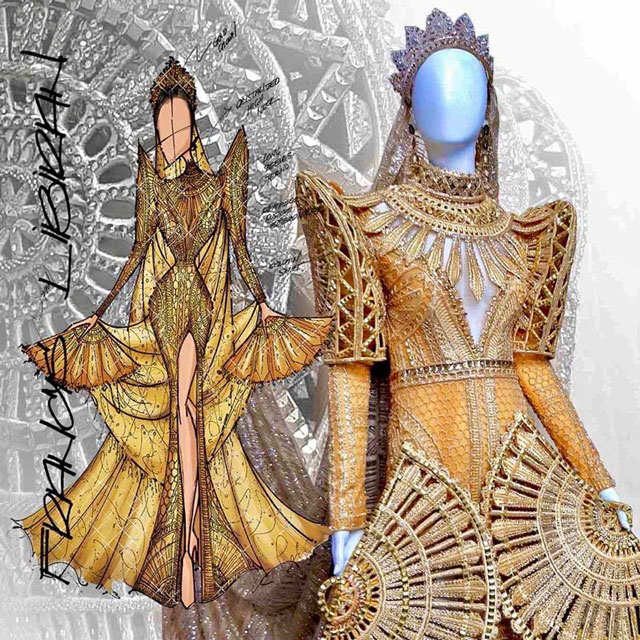 Mark Sablan of GMA Artist Center added that Francis also drew inspiration from the history of the Visayas region.
"The Philippine Sun Princess: Miss World Philippines Michelle Dee's Francis Libiran couture national costume is a symbolic work of art and labor of love.
"This state-of-the-art version of the Philippine Terno is a celebration and preservation of rich Filipino culture.
"The design of the Sun on the collar is inspired by the Sun of the Philippine national Flag, customized in Francis Libiran signature intricate Art Deco embroidery. It is a symbol of optimism, positivity and courage.
"The custom embroidery patterns, is inspired by the historic Visayan tattoo called 'Batek'. They were found in the earliest illustrations of our Visayan warriors in the 16th-century Boxer Codex. To our ancestors, Batek symbolized bravery and triumph.
"This well-crafted wearable art piece is made of fine soft tulle, intricately embroidered with custom embroidery and hand-made beadwork."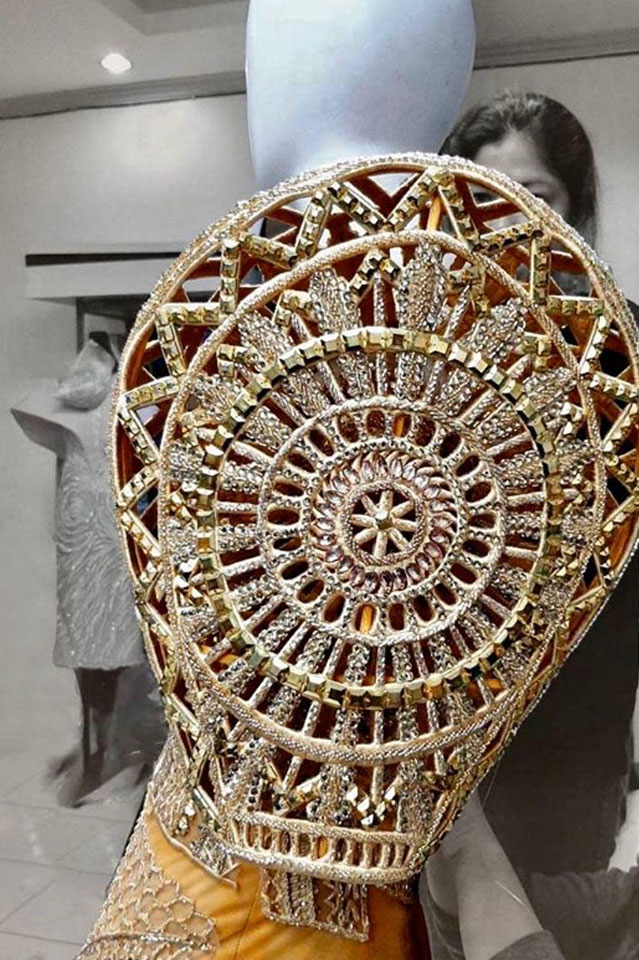 MICHELLE DEE'S PREPARATIONS FOR MISS WORLD
Aside from the national costume, Francis also made Michelle's "Pearl of the Orient Seas-inpired" evening gown for the competition.
In an interview with PEP.ph and other members of the press last November 13, Michelle expressed her excitement for her evening gown.
She said, "We played on the concept of it being the Pearl of the Orient Seas. So it is going to be in the shade of… Secret na lang kung anong shade of blue, pero it's very lovely, the details are exquisite.
"When I tried walking on it, it was very fluid, very elegant. I'm pretty sure it will turn a lot of heads when I reach the international stage."
Francis gave more details, "Ang ginamit namin is chiffon together with linear embroidery and beading.
"We had a meeting like months ago and I was telling her, 'What do you really want for Ms. World?'
"And I see how she walked which is very good with flowy materials, very lightweight, nothing girly in terms of colors because it's her personality.
"So we really try to tailor-fit it to who she was, you know. And doon ko nakuha iyong inspiration na we should ano with water, the Philippine sea."
According to Francis, it took him some time to finish both gowns for Michelle.
He explained, "Kasi the process of dressing up a beauty queen, it really takes time because you need to consider that they need to carry the gown in their most comfortable way.
"It's not just like giving them the gown. It takes a lot of practice, a lot of effort and consideration in their moves and how they present themselves in the stage."
Francis recalled a similar experience when he dressed up Megan Young for the Miss World 2013 pageant.
The designer continued, "I think that's a good combination, especially like what happened with Megan Young before when she won Miss World.
"I was given like two weeks just to make her gown and I think the country was Malaysia or Indonesia where the country is very conservative.
"I cannot do something that's sexy. So covered si Megan that time, but I remembered clearly when I asked her 'What's your walk?' and 'Ano iyong gusto mong ipakita on stage?'
"So she said that 'Francis, I want to show my figure. I want to show how I walk.'
"So, I highlighted those things. And it's always a good combination that you collaborate with the one wearing your design because if they understand the process, they could carry it well on stage."
Francis also revealed that establishing a relationship with his muses makes the design process easier for him.
"Like with Megan, she approached me. For Kylie naman, I was the one who dressed her up for the competition and then iyong international rin sa Japan.
"And iyong kay Michelle naman, it's the same thing. So it's actually a relationship wherein kilala mo na iyong taong bibihisan mo and it makes it easier that you know the person already, you know the character, you know how her personality is.
"It's so easy to design something for that particular person."
Michelle is among the 112 delegates from around the world vying for the Miss World 2019 title.
Vanessa Ponce of Mexico will crown her successor at the pageant's grand coronation night on December 14, at the ExCeL London in London, United Kingdom.