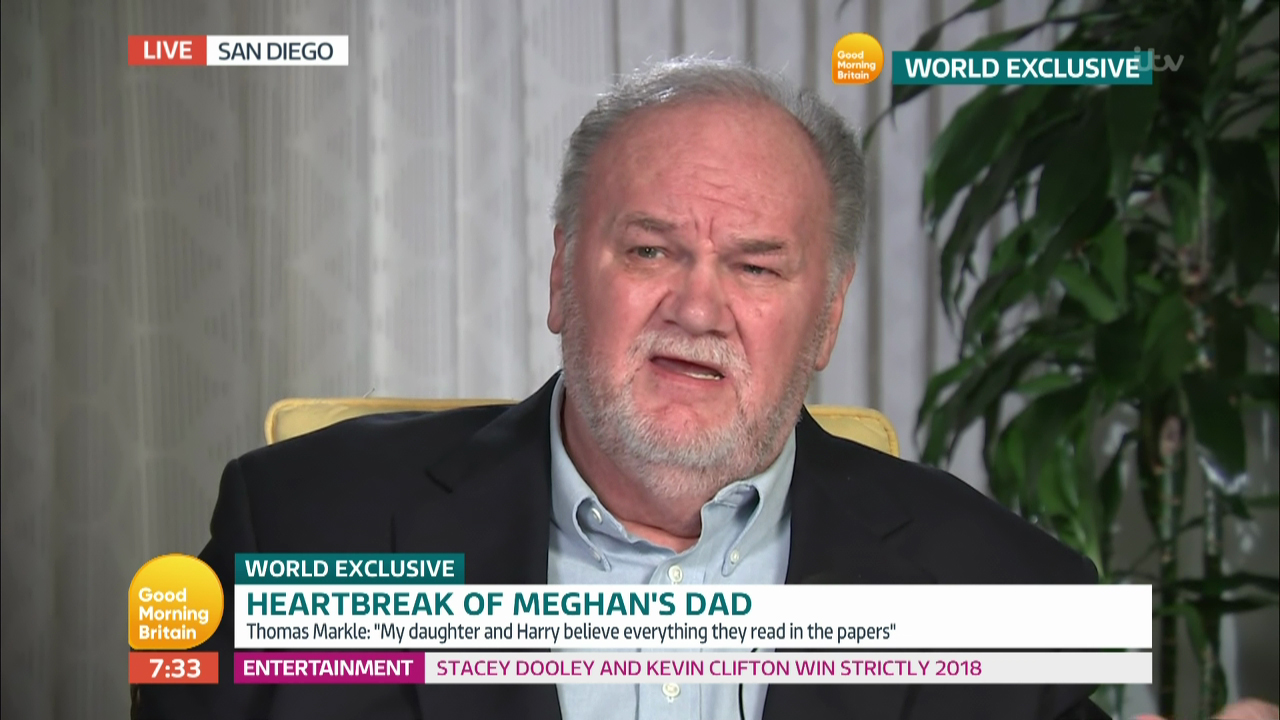 We talk about this a lot in the latest episode of Gossip With Celebitchy (the one that's out today, #32): the letter the Duchess of Sussex sent her father, Toxic Thomas Markle, about three months after her wedding. It's important to keep in mind the timeline – Thomas Markle had organized photoshoots (then lied about them) before Meghan's wedding. He was rude AF to Harry on the phone. He faked a heart attack to avoid the wedding. And then he spent months ranting and raving to media outlets about how Meghan and Harry were terrible people for not contacting him. Thomas Markle was still lying about whether Meghan had contacted him for months after he received her letter. Which is why that People Magazine cover story in February was so important: Meg's friends revealed the existence and substance of Meghan's letter, and that was what baited Thomas to sell the letter to the Mail on Sunday.
The existence of the letter exposed Thomas's lies, and it also humanized Meghan – she had been in contact, she had tried to tell her dad what he needed to do to be in her life, contrary to all of the sh-t he had been saying for months. By exposing Meghan's letter, Thomas exposed himself. And the kicker was that as soon as he sold the letter to the Mail on Sunday, Meghan contacted her lawyers and they began working on the lawsuit, which just got filed last week. The whole thing was orchestrated by Meghan brilliantly, and I say that with utter respect. She knew her dad was and is trash. She knew he wouldn't be able to stop selling her out again, so she played him, and she played the media. But Toxic Tom still wants to say words and act pitiful. No one's buying it. Toxic Tom ran to the Mail yet again to tell "his side" of why he sold her letter to the Mail.
He never intended to make the letter public: The Duchess of Sussex's estranged father has told how he kept her controversial letter secret for six months, never intending to make it public. But he felt he was forced to release some of its details when her friends 'misrepresented' its contents to an American magazine. Thomas Markle received the handwritten five-page missive via FedEx from Meghan's Los Angeles business manager Andrew Meyer in August 2018. Deeply hurt, he vowed to keep it private.

Why he released the letter: 'I decided to release parts of the letter because of the article from Meghan's friends in People magazine. I have to defend myself. I only released parts of the letter because other parts were so painful. The letter didn't seem loving to me. I found it hurtful.' Mr Markle, who lives in Rosarito, Mexico, said he was 'devastated' when the existence of the letter was made public. He is also angered by false claims that he asked for and received payment for releasing parts of the letter.

Meghan didn't even ask how he was doing in the letter: Mr Markle was deeply hurt his daughter did not use her letter to enquire how he was doing after his heart attacks. 'There was no loving message in there, nothing asking about my health, nothing from her saying, "Let's get together and heal our differences." When I opened the letter I was hoping it was the olive branch I'd longed for. I was expecting something that would be a pathway to reconciliation. Instead it was deeply hurtful. I was so devastated I couldn't show it to anyone – and never would have, had it not been for the People magazine piece which meant I had to release portions to defend myself.' Mr Markle still hopes a reconciliation with his daughter is possible: 'I don't recognise the person who wrote the letter but I still love my daughter. All it would take is one phone call and most of this craziness would stop.'
[From The Mail on Sunday]
"The Duchess of Sussex's estranged father has told how he kept her controversial letter secret for six months, never intending to make it public…" Yeah, we know. If he kept it private, he could continue to give interview after interview about how Meghan had FAILED TO CONTACT HIM. That was his story for months and months, even after he got the letter – that he had not heard one word from Meghan. He was keeping the letter private because he found it more profitable to lie about her. Plus, the content of the letter shows how Meghan was incredibly hurt by Thomas's words and actions. If he revealed the letter, people might have sympathy for HER because of his unhinged, toxic and nasty behavior.
Also: the Mail continues to say that they're not paying Thomas for these interviews. I'd be curious to know how much they're paying him to license all of the personal photos they use in these articles though.
MAIL ON SUNDAY: Meghan's Dad: why I shared 'hurtful' letter #TomorrowsPapersToday